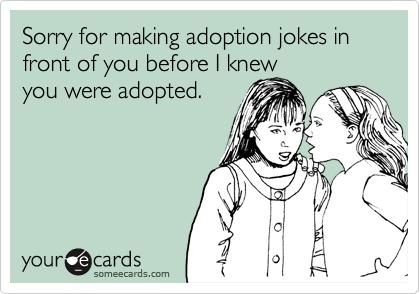 I have always wondered what it must be like to have grown up with parents that you can call your own. I know how silly this must sound, but this is something that I have always wondered about since the moment that I was told that I was adopted.
When you are a little kid, you are not really sure what being adopted exactly means, but you believe your adopted mother when she says "You are special, Jess." "God wanted us to have you." I remember thinking, "Wow, that is so cool, I was chosen!" Then as you grow up and you learn more about the world around you, your childhood innocence begins to fade ever so slightly.
Going food shopping was a nightmare. I used to look for a resemblance in any couple that passed me in the aisle. I had this plan that I would boldly walk up to them, tap them on the shoulder and say "Exxxxxxcusseeee me, arrrrreeee youuuuu, my real parents?" However, my fear of strangers would kick in and that boldness would subside. As I became a teenager, that need to find my real parents turned into a feeling of "How the hell could you give up your own child?" Then the rebellion kicked in.
As the years passed, I always had that question in the back of my mind. Actually…. many questions.
When I was in high school, my feelings about being adopted would resurface when I would get into a fight with my adopted mother. Unfortunately, I would use my anger about being adopted as a weapon to hurt my mother when she made me angry. When she used to say "I brought you into this world, I can take you out of it." I would painfully throw back an "Actually, mom, if I am not mistaken, you did not bring me into this world. You just signed the papers" This was followed by a "You ungrateful (followed with a string of profantities)" from my mom. Then from there, I knew to hide at one of my friend's houses.
Now, I do not want to get into the details of what happened after I made that hurtful statement directed towards my mother. But lets say the aftermath of that statement was not pretty. Lets just say that my mom was an old school italian mother who was born and raised in the Bronx.
Although I loved my mother very much (she passed away when I was 18), I took out my anger about being adopted on her. I don't know why, but I think sometimes,we do this to the ones that we love or feel the most comfortable with, and I do regret it.
In my early twenties, I had the desire to reach out to the adoption agency. I had always promised my mom that I would never find my biological parents because I considered her to be my real mom. She never discouraged the search, but I knew deep down it hurt her. The thought that I wanted to meet the actual people who gave me up.
The truth is, I did not want to search for them because I wanted to start my life over with my "real" parents, but I, like many other adopted people out there,just want to close that chapter of our lives. You just want to put a face to the image of your parents that you have conjured up in your mind.You want to make sure your parents are not serial killers or something. Thankfully mine are not.
I am going to save my experiences of what it was like to meet my biological mother for another posting, but lets just say that it was a wild roller coaster ride.It was a pretty cool experience. Not what I had experienced,and it came with some dissappointments, but it was worth it.